Venice cake consists of simple ingredients that can be found in any supermarket:
For shortcakes:
flour;
eggs;
starch;
cream fixer.
For cream:
citrus fruits, prunes or other fruits;
cream cheese;
cream;
sour cream;
sugar;
cocoa;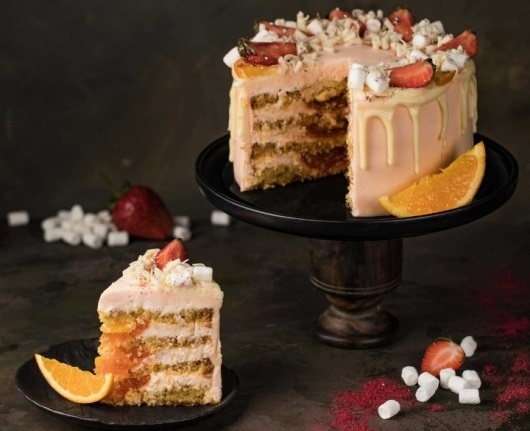 This delicacy will appeal to all lovers of desserts, especially those who love chocolate, as the biscuit cakes of this dish are soaked in cocoa cream.
Nikki confectioners will be happy to prepare for you a delicious Venice cake according to a skillfully selected recipe, and decorate the dessert with figurines or an inscription according to your wishes.
In Italy, where the city of Venice is located – the namesake of our confectionery – a large number of authentic sweets, ingredients for them, as well as desserts and cakes. Serving sweets separately from the main dishes in the country began around the 18th century, before that they interrupted the meal with desserts, and sugar was also added to the main dishes in order to somehow cover the salty taste of meat, fish or vegetables, since at that time salt was main preservative. For example, cookies were used for purely practical purposes – sailors took them with them on the road, because they needed durable products.