This unsurpassed dessert will appeal, first of all, to those who are very fond of sweets, in particular, store-bought Snickers bars. If you want to taste this delicacy while preserving the original taste of a chocolate bar, you are welcome to Nikki Cafe-Restaurant. Our confectioners will prepare this incomparable dessert for you and decorate it in the most modern appetizing style.
It doesn't take long to make a cake with a world-famous name. You can enjoy the exquisite nut-chocolate taste of the dish even on the day of ordering. Our chefs will definitely find time to please you with a wonderful dessert.
When preparing a Snickers cake, in addition to the usual biscuit components, the following are used:
coffee or cocoa for the cakes, which is mixed with flour and baking powder;
sour cream and butter – for the base;
two types of cream: custard (milk, sugar, starch, butter) and with condensed milk (butter, condensed milk, roasted peanuts).
To give the product an authentic taste, you need:
the first cake (usually two of them are baked, but more can be) should be smeared with cream three times – twice with butter-custard, and between them – with condensed milk, and sent to the refrigerator;
when the filling soaks the dough, you can decorate the cake on top: for this, add cocoa (or coffee) to the remaining cream and grease the surface;
sprinkle the sides of the confectionery with chopped peanuts;
For beauty, you can also lay out different figures on the surface of the product and swirls of cream using a pastry bag.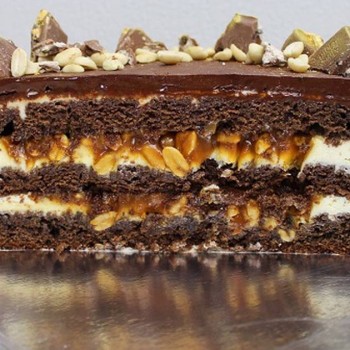 The cake, soaked in three layers of very rich cream, trimmed with peanuts on the sides and decorated with chocolate details on top, will appeal to all passionate sweet tooth and will perfectly complement any table. You can order a Snickers cake for a treat for every day or for a holiday. Bon appetit!