This magical unicorn-shaped biscuit is very bright and memorable, perfect for treating children, for example, on a holiday. At the same time, he will not leave indifferent adults who sometimes also want a holiday.
The cake layer requires standard baking ingredients, including chocolate and, if desired, strawberry or some other yogurt.
For the manufacture of cream, white chocolate, strawberry or other fruit puree, butter and sugar are perfect.
To decorate the cake you will need:
mastic to create the horns and ears of the future unicorn;
food coloring for coloring decor details in several layers;
plain water.
One by one, mix flour, baking powder, whipped butter with sugar, eggs, yogurt and lemon zest. We bake the cakes until golden brown, cool, wrap in cling film and put in the refrigerator for half an hour.
For the production of cream, cook strawberries (fruits and berries – to choose from) with sugar until a homogeneous mass is obtained, rub the resulting mixture through a sieve, add melted chocolate, whipped butter with powdered sugar and grease the cake cut into two parts.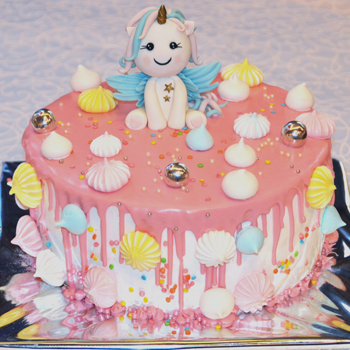 The process of decorating this unusual confectionery deserves special attention. To do this, we prepare a special cream: mix whipped butter and cream cheese with powdered sugar and grease the top and sides of the cake. We color the rest of the filling with dye in different colors and use a pastry bag to decorate the top. With black dye, we draw eyes and cilia to our unicorn, set the ears and horn on top. The dish is ready. Bon appetit!