Layers of delicate chocolate biscuit with a rich taste of natural dark chocolate, soaked in sugar syrup and combined with chocolate cream will not leave any gourmet indifferent.
If you love chocolate and want to enjoy an exquisite dish made from it, then the Chocolate Boom dessert will best decorate your menu for every day or for a holiday.
To make the cake, our specialists use only fresh and high-quality natural products:
you need to add eggs, cocoa, flour, sugar to the biscuit;
cream consists of butter, dark chocolate, 30% cream;
This dessert uses chocolate ganache, cream and butter to garnish.
To make the dessert look attractive and appetizing, it can be decorated with cream, chocolate details, flowers, 3D shapes or a pattern. You can also order an inscription or drawing that is dedicated to a significant date if you order a cake for a treat in honor of an important event.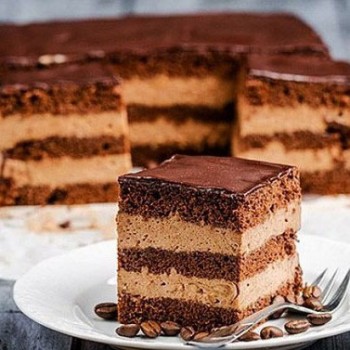 For real fans of confectionery, the cake can be made in several tiers – most often 2-3. You will be delighted with the unsurpassed rich chocolate taste and exquisite design style of this dessert.
It is prepared quite quickly – the cakes are baked in 45 minutes. However, our confectioners recommend: if you want to get a beautiful and tasty cake, then it is better to place an order two weeks or at least a day in advance.