The cake gets its name from the variety of cherries that go into its cream and sugar syrup to impregnate the base. Velvet cherries are larger, juicier and more appetizing.
Velvet Cherry cake includes:
white vanilla biscuit,
cherry-based custard
Syrup of cherries boiled in sugar
To make the dough, you will need eggs, sugar, vanilla sugar, flour.
To make cream for dessert, go:
custard cream with a fat content of at least 30%,
custard on yolks of our own production,
pastry cream, which is also used to decorate the product.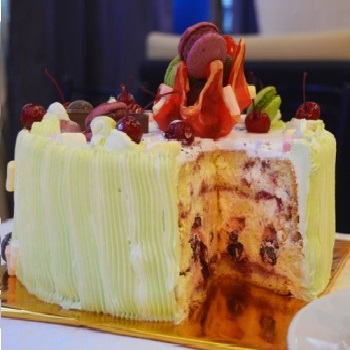 To make the cake well soaked and tasty, vanilla cakes are smeared with cherry syrup. Then the remaining liquid is rubbed through a sieve, the resulting cherry mixture is added to the cream.
The recipe for each Nikki cake is original, unique and kept secret by our pastry chefs. The main advantage of products from our restaurant is the quality of products: they are all fresh and natural.
You can decorate the biscuit with fruits, chocolate, mastic. A real fashionable know-how is the tradition of decorating a cake with fresh flowers. To do this, the buds are laid out in a certain composition on the surface. Nikki confectioners will fulfill your every whim and you will be able to fully enjoy the exquisite taste of Velvet Cherry and sophisticated design.