At Nikki Café you can order a children's party for the whole class or a small group. Spacious rooms and original interior make this event massive and fun. Nikki is a modern cafe-restaurant with excellent cuisine.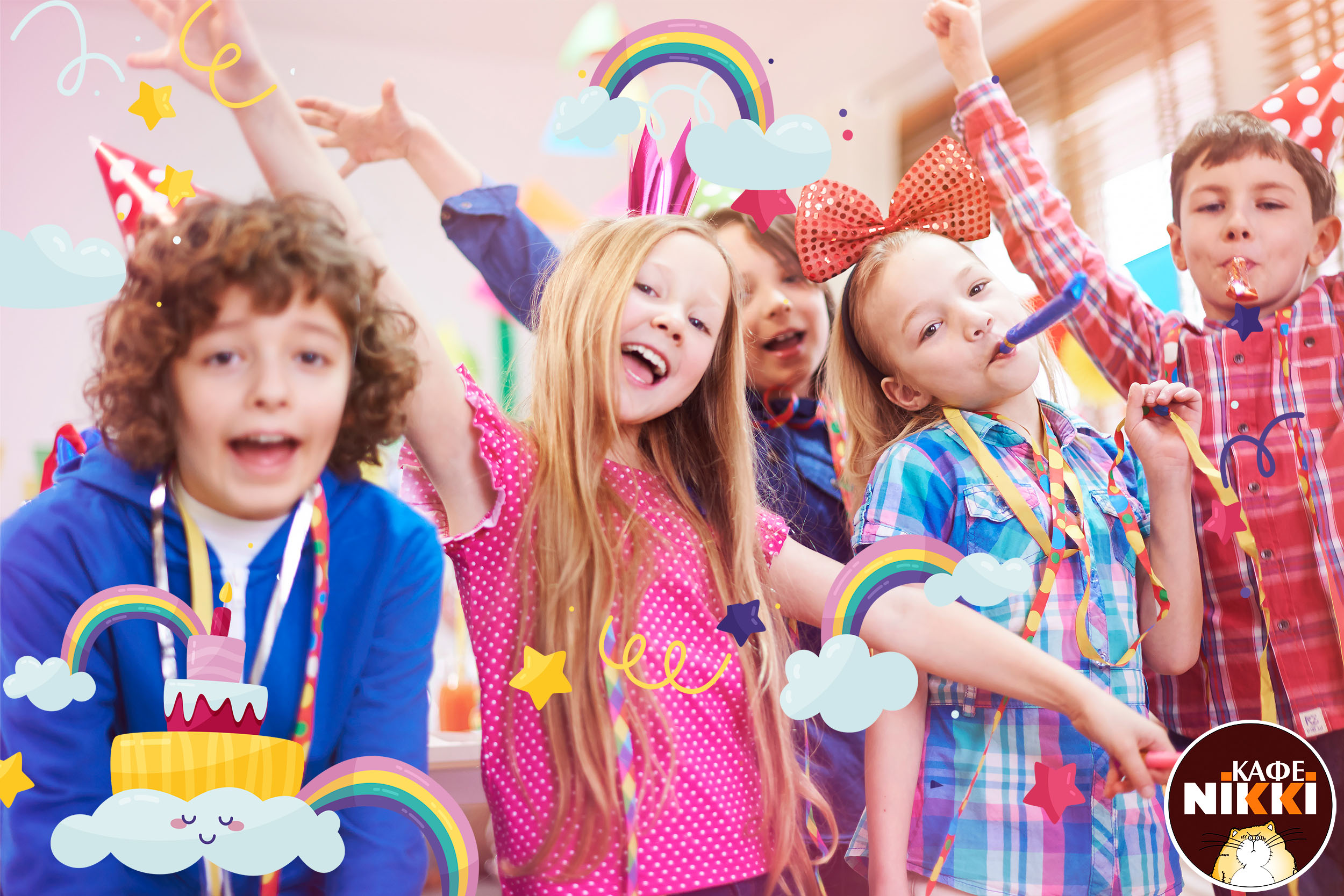 We offer two spacious halls decorated in different styles and a small illuminated stage. Our two halls are designed for different numbers of guests – 30 and 70 people. They are isolated, but if you open the doors, then the space can be combined. Children's animators are very fond of working with us, because there are all conditions for holding any event – from a themed birthday to a festive quest.
Did you order a happy childhood?
Parents, grandparents certainly want the childhood years of their beloved kids to be joyful and happy. The older generation did not see such a scope for organizing children's holidays, so they are happy to try to make the dreams of little birthday people come true.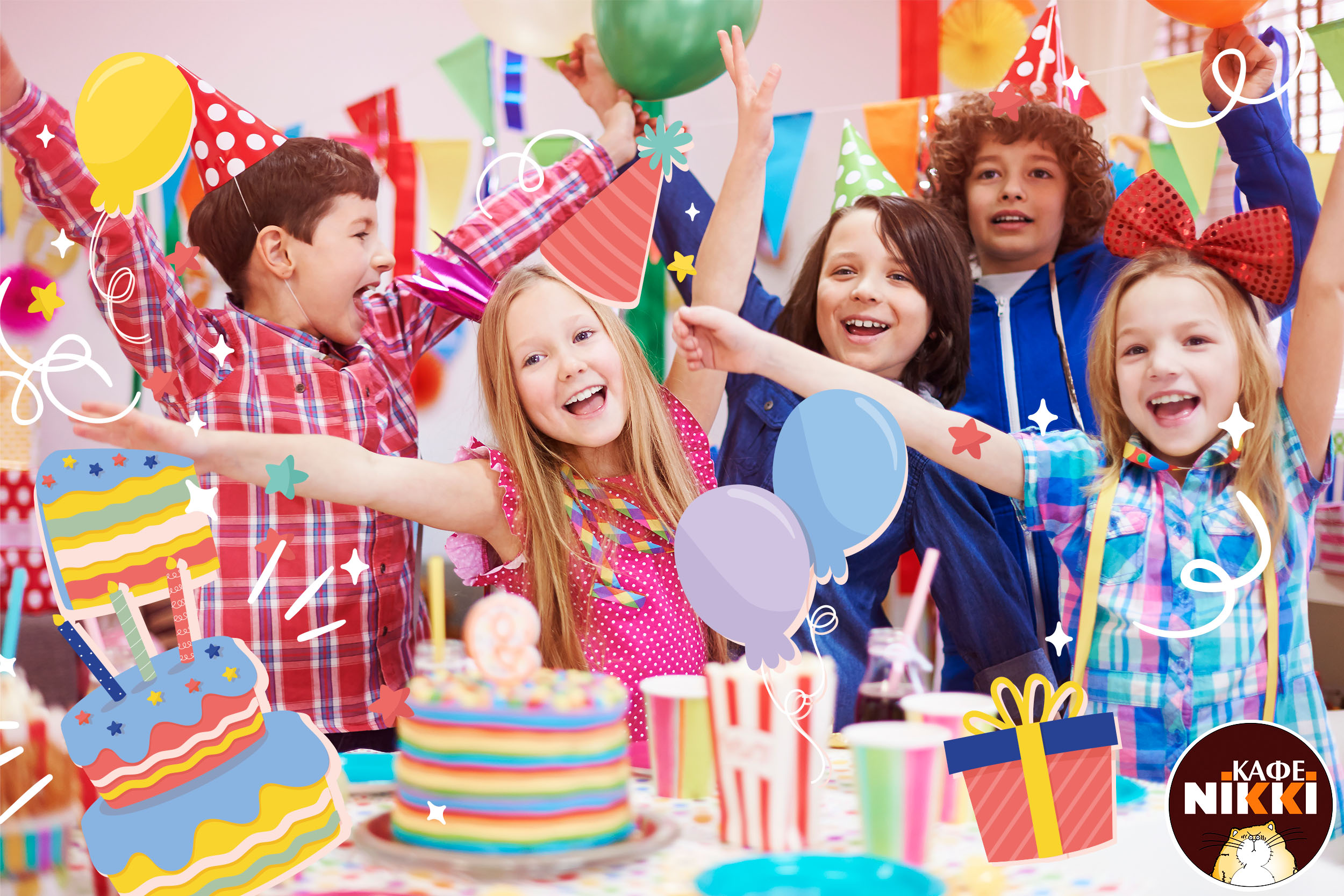 The location of the cafe-restaurant allows you to:
children's birthday (orders for children of any age);
master class for children (any subject);
children's party;
musical show program;
graduation;
presentation of goods for children with competitions and outdoor games;
exclusive animation programs;
fun quests.
Need help?
Order a call and our operator will contact you shortly to provide a consultation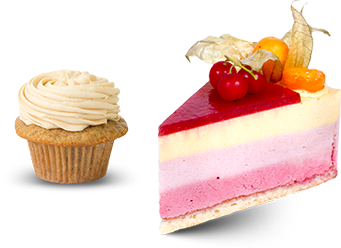 Animators will help to properly organize and equip the space so that it is convenient for children not only to move around, but also to dance. For children's parties, we have special equipment, including microphones and amplifiers.
Large or small hall
The choice of the hall depends on the number of guests and the desire of the customer. The design of the large hall is designed in bright colors and can accommodate 70 people. Its design is ideal for fun competitions, music programs and various shows (soap bubbles, unicorn party, vyshyvanka party, etc.). The room is furnished with comfortable tables and soft sofas with light upholstery. Light furniture sets the mood. We can organize a separate table for parents so that they can relax and rest a little while the children are occupied by animators.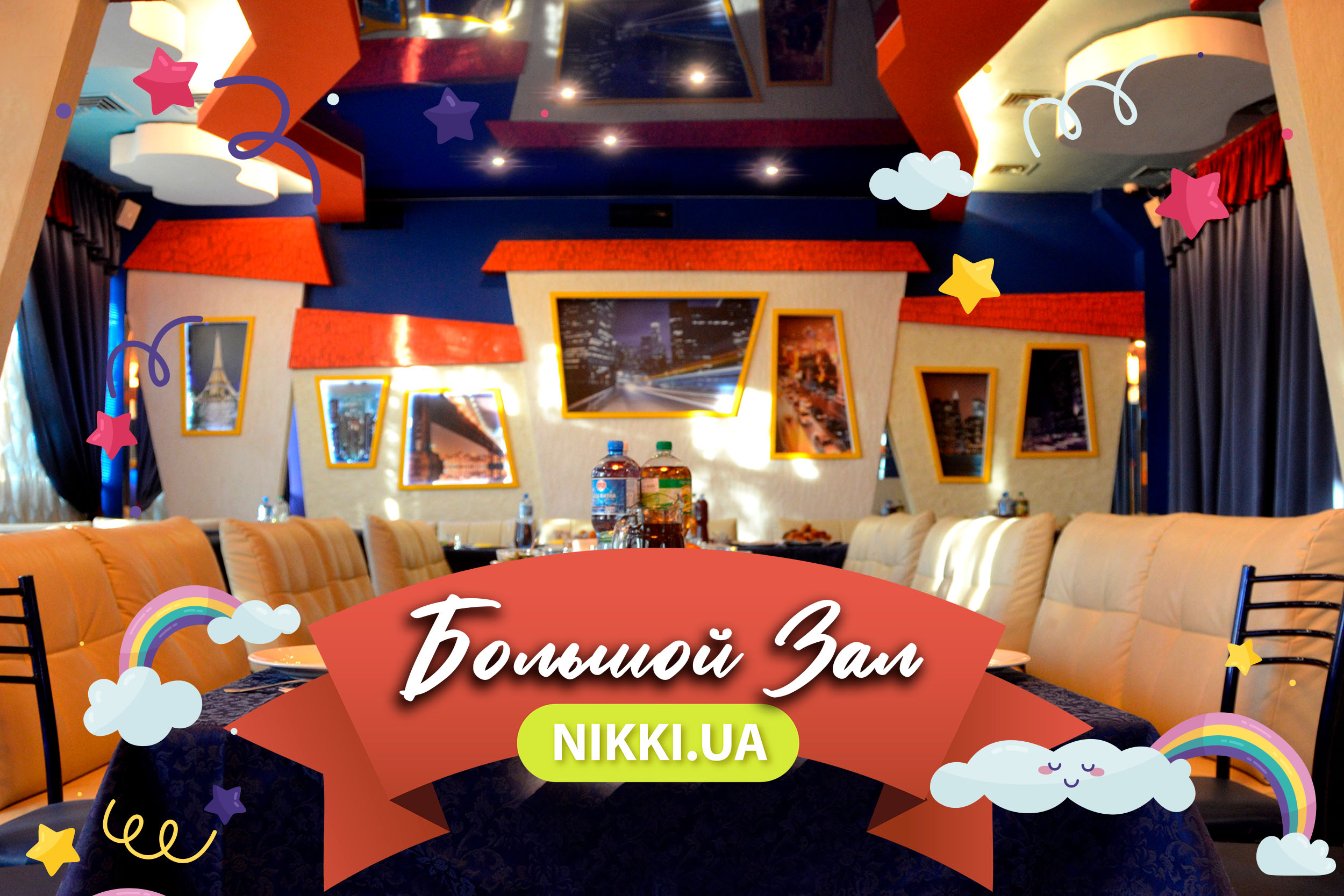 The large hall has a modern illuminated stage. Guest singers, musicians, magicians can perform on the stage. Children can also sing there. Friends of the birthday boy can come up to the microphone to congratulate him and wish him happiness.
The small hall is designed for 30 people, it is decorated in a classic style, but bright stylish lighting and walls make it very lively. Free arrangement of tables, decorations of animators and purple installations on the walls will create an unforgettable atmosphere here. The room is illuminated by original lighting fixtures that look like a bouquet of bright flowers.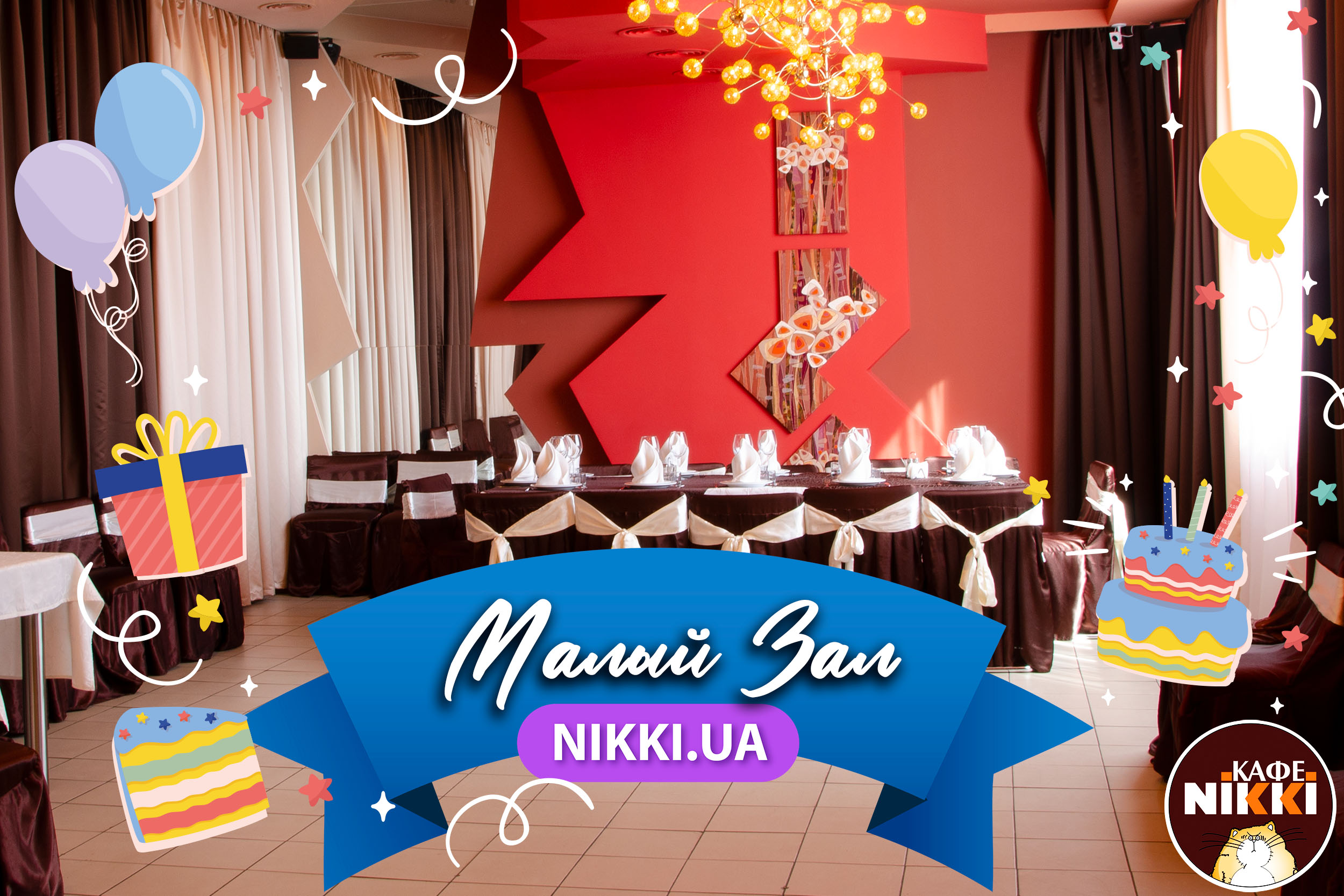 The small hall is ideal for holding a children's party for a little princess, a master class for girls, a quest or a creative competition.
Regardless of the choice of the hall, we will help your child to have a great time with family and friends, brightly celebrate a birthday or other important life event.
Children's Party Treats
Nikki Café & Restaurant offers treats your kids love. It could be:
full lunch;
children's menu;
light snacks and drinks;
fruits and drinks;
sweet table.
We also offer custom-made cakes for birthday parties.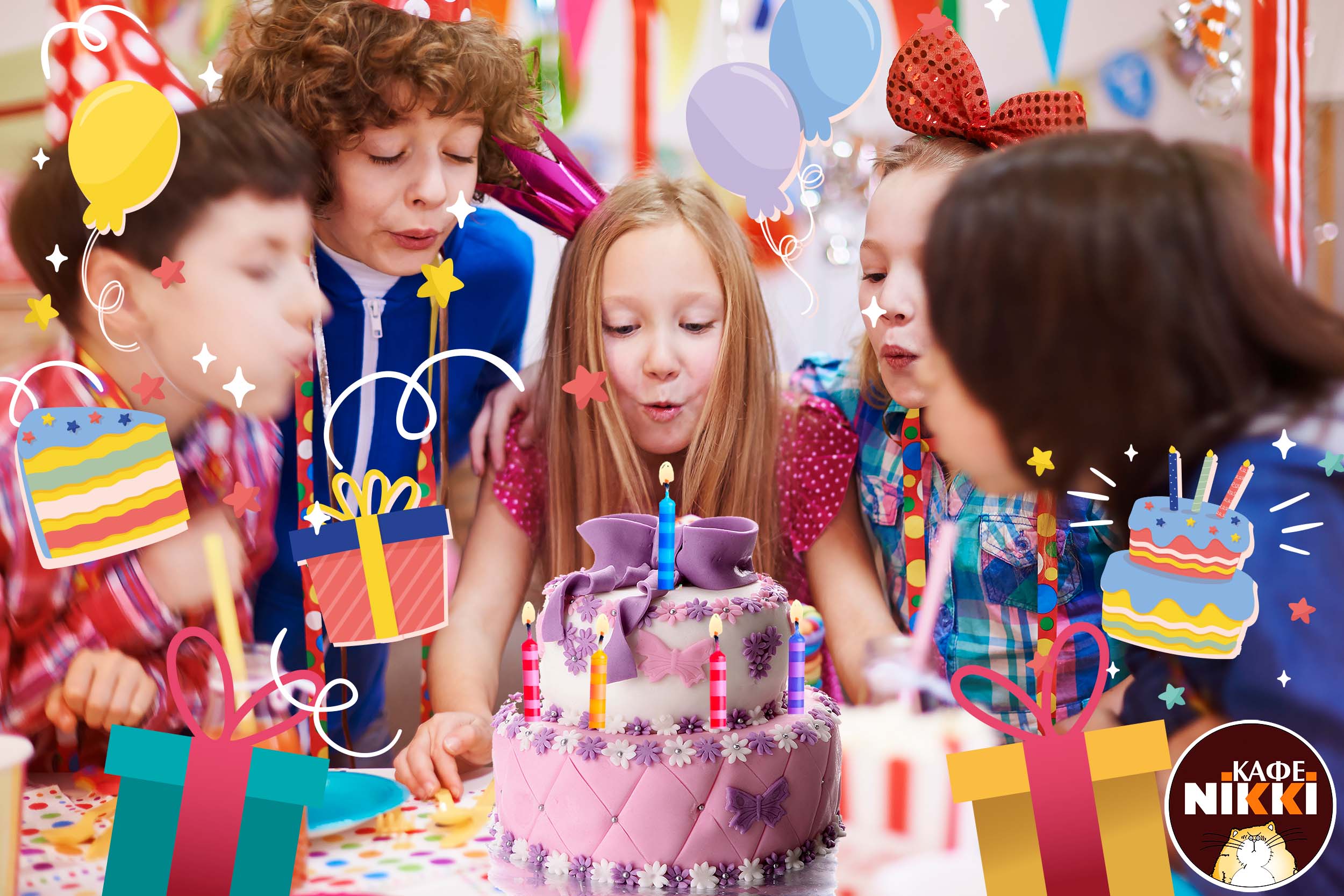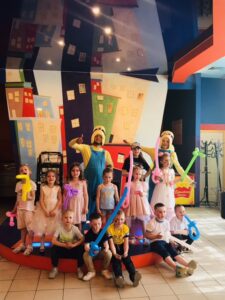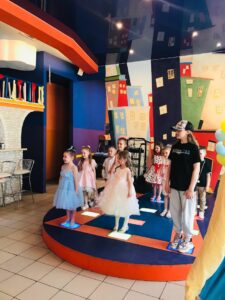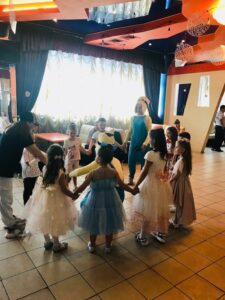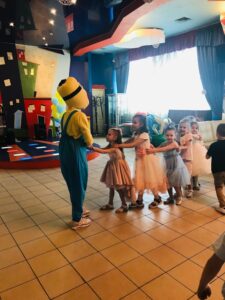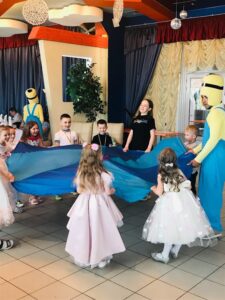 Children's Party FAQ
How can I book a children's birthday at Nikki Cafe?
To order a children's birthday party at the Nikki cafe, you need to call the establishment's administrator at one of the numbers listed on the page.
How many days in advance do you need to place an order for a children's party?
We are taking orders today for tomorrow, but if customers want an author's cake or a special menu, it is advisable to call 4-5 days in advance./div>
How much does it cost to rent a small hall for a children's party?
Renting a small hall for a children's party costs 150 UAH per hour, subject to a rental period of at least 4 hours.
How much does it cost to rent a large hall for a children's party?
Renting a large hall for a children's party costs 250 UAH per hour, subject to a rental period of at least 4 hours.
/div>
How many guests can I invite to a children's party at Nikki Cafe-Restaurant?
The Nikki cafe has two halls – the small hall can accommodate 30 people, the large one – 70. It is possible to combine both halls, then 100 guests can be invited to the celebration./div >